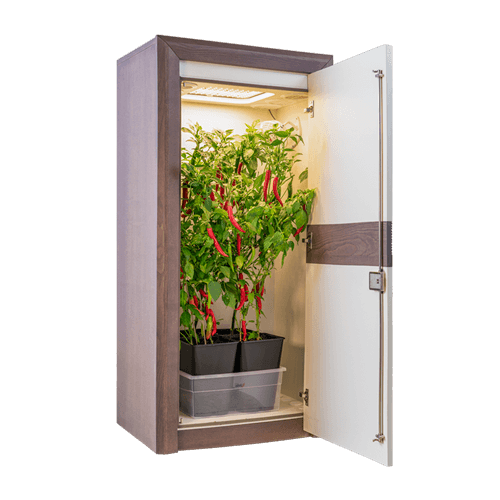 the premium grow box from urban Chili guarantee you good harvests all year round
Choose the color that best matches your interior. You can also choose whether you want the grow cabinet to be delivered as a kit or fully assembled. All you need to assemble is a screwdriver and scissors. Detailed assembly instructions and everything else for accessories for your led grow box set is already included.
For your homegrow you only need more seeds, soil and fertilizer.
Which variant would you like?

set up
Simple and solid design
as a plug'n play system

grow
optimized
keep it simple
LED grow box complete set
harvest
Harvest all year round
highly potent plants
All components of our grow cabinet are optimally coordinated. Etagrow developed the LED special for urban Chili.
The full system only needs 93 watts when fully operational, making it extremely efficient.
You hardly notice any operating noises.
We have a very quiet air circulation fan in the plant area, the exhaust air is distributed over 6 Ultra QUIET fans and the LED is silent.

The LED grow cabinet complete set from urban Chili – simplicity meets first-class quality
The excellent quality of the grow box is also evident in the excellent product processing and the body with design elements made of solid wood and the veneered surface. So it is not surprising that this grow cabinet even made it into the elite Playboy!
Finally self-sufficient with the grow box from urban Chili
It doesn't get any better: that's why urban Chili is the best choice
It is possible to order all parts for a grow box separately from several suppliers and laboriously assemble them.
But this has many disadvantages. Costs and workload are higher and something can easily be forgotten or individual parts do not match. Frustration sets in that can be avoided.
With the urban chili grow cabinet there is a perfect solution. It contains everything that the hobby botanist needs for his grow. All components fit together and are excellently processed. Decisive sources of error in homegrowing can thus be excluded. Our customer rating and what others write about us are impressive.
We guarantee you good harvests all year round.
less power consumption than a 100W light bulb

High efficient full spectrum led
174 Samsung / Osram Chips, 100% silent

Carbon filter for odor neutralization
3-layer carbon filter layer

Safety lock
Keep your plants away from prying eyes

Super silent
Continuous operation without hassle

Quality design
The design elements are solid wood (ash)
Dimension: L = 65 cm x D = 45 cm x H = 133 cm

Economically
Consumes only 93 watts

System Information
Thermometer and Hygrometer

Exhaust fan
6 fans with carbon filters
4 pots and tub
Water capacity for 1 week
Build up the grow box and get started
There is a choice between self-assembly using child's play instructions or a fully assembled urban Chilli plant cabinet.
Craftsmanship is therefore not necessary. Whether fully assembled or as a kit. Finally, the lighting in the grow cabinet needs to be connected to the socket and the desired time set. Finished!
So that we can start immediately with the cultivation of the plants, we really thought of everything with the complete grow box set.
With the tub and the clay granulate, you can also water weekly and nothing stands in the way of a short vacation.



International Shipping
Delivery

faster customer support
SERVICE
-> here you will find our partner shops
if you like urban chili, let's like it, THANKS🌶️
Grow box complete set 🌶️ heart: what makes a good grow light?
More watts is not the same as yield
Thanks to optimized planning by Etagrow and new Samsung and Osram LED technology, the unique, passively cooled LED was created. The LED is absolutely silent and produces the best lighting conditions with a plant spacing of 20 to 40 cm (1129 – 818 μmol/m²s) and that with 80 watts.
Highlight:
New full spectrum LED with 168 x Samsung & 6 x Osram = 174 chips on 80 W.
Developed and finished in Tyrol / Austria (2020)
Efficiency and light quality have been greatly improved
Plant spacing <15 cm possible
Special protective coating of the LED board
Absolutely silent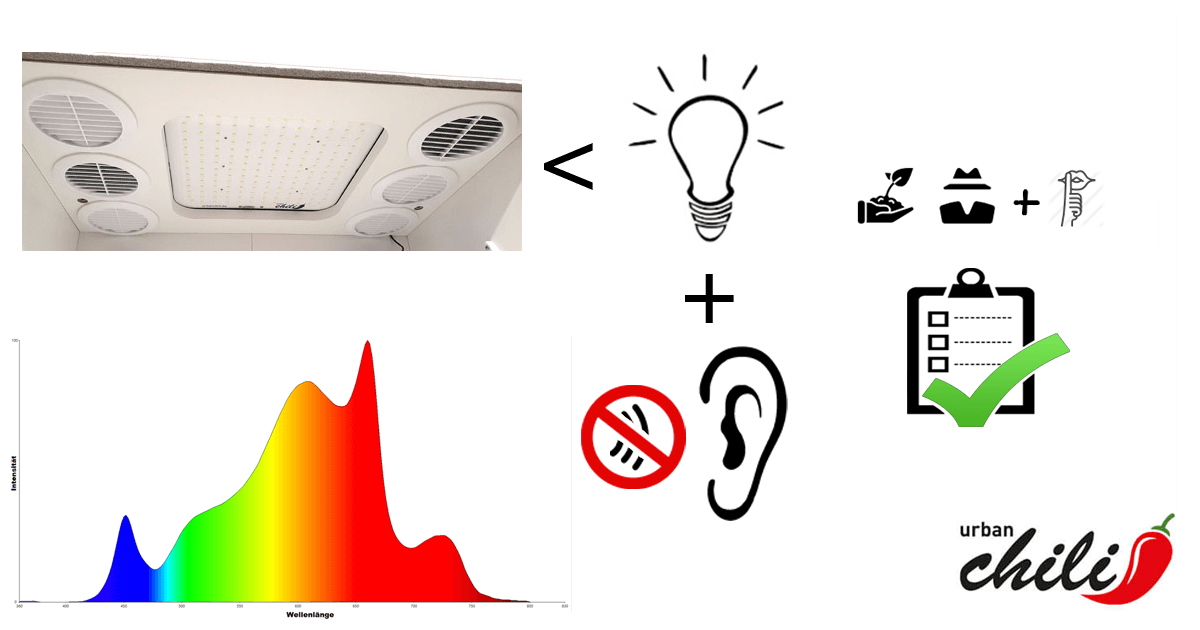 Growbox smell
Can anyone smell my plants?
There are certain herbs that exude a distinctive smell that is often undesirable.
To avoid these smells in the living room, urban Chilli has its own activated carbon filter and
a very quiet, permanent exhaust air.
Growbox filter what to look for?
urban chili should be in a normal living room that is also regularly ventilated.
The filters and the function cannot be guaranteed in wet rooms and very small closed rooms, we do not recommend this.
Change the filters every 3 months to ensure optimal filter performance. From the 6th month you will probably only have 75% filter performance.
The exhaust air runs continuously.
Odor feedback since 2017
Less than 2% of our customers have so far contacted us about odor problems. In these cases, however, it was due to small unventilated rooms and that the exhaust air was plugged into the timer and did not run permanently.
When operated correctly, 99% of customers experience no specific plant smell.
Exhaust and recirculating air -> volume / acoustics
How loud is the grow box, can you hear the exhaust air or circulating air?
The exhaust air and the circulating air determine the volume of a grow box. Depending on the dimensions, it can get very loud with 230V fans. With our grow cabinet, care was taken to be as quiet as possible.
Conclusion:
Absolutely no comparison to other grow box complete sets with 230V fans. You hear almost nothing, and that's a good thing. urban chili is probably the quietest grow box you can buy.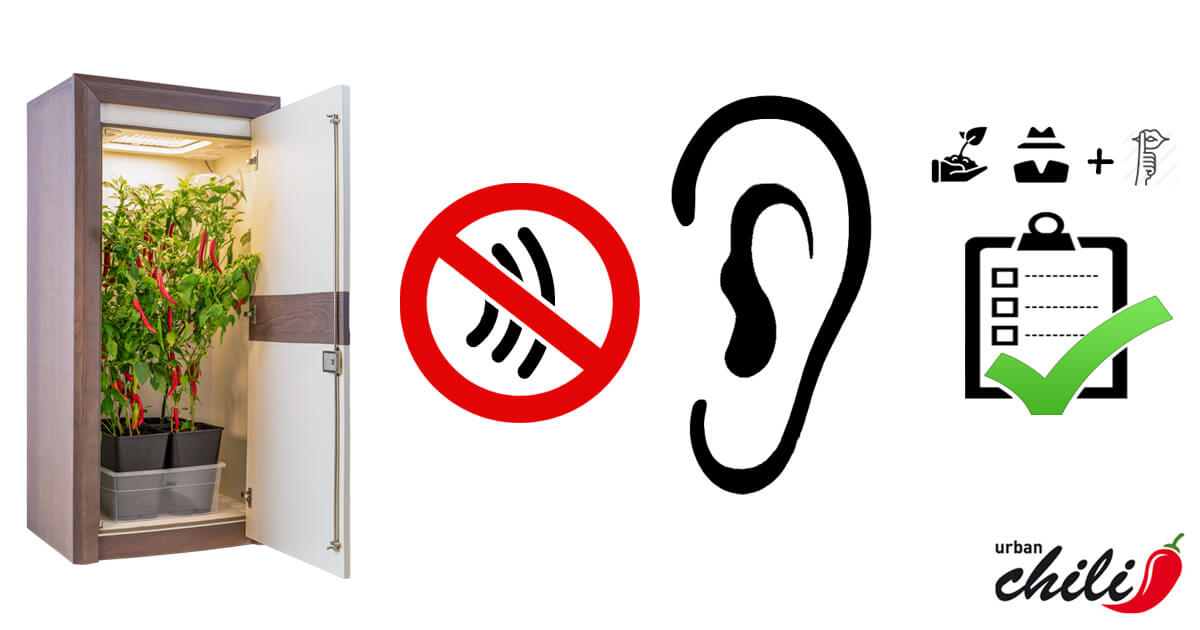 How much does a grow box cost monthly – annually?
With the grow box costs there is also a preliminary effort.
Take a closer look at how efficient your grow equipment really is. You can compare other systems you might want to buy.
Exhaust air, circulating air and the luminaire require a lot of electricity. We have an electricity cost calculator for this need.
urban Chili is probably the most energy efficient grow box system. So far we have not found anything comparable.
TIP: Light has a very high reduction factor at a distance. Unfortunately, you have to keep a certain minimum distance with many lights 30cm + is not uncommon. With our LED BOARD, a distance of 10 – 15cm is no problem.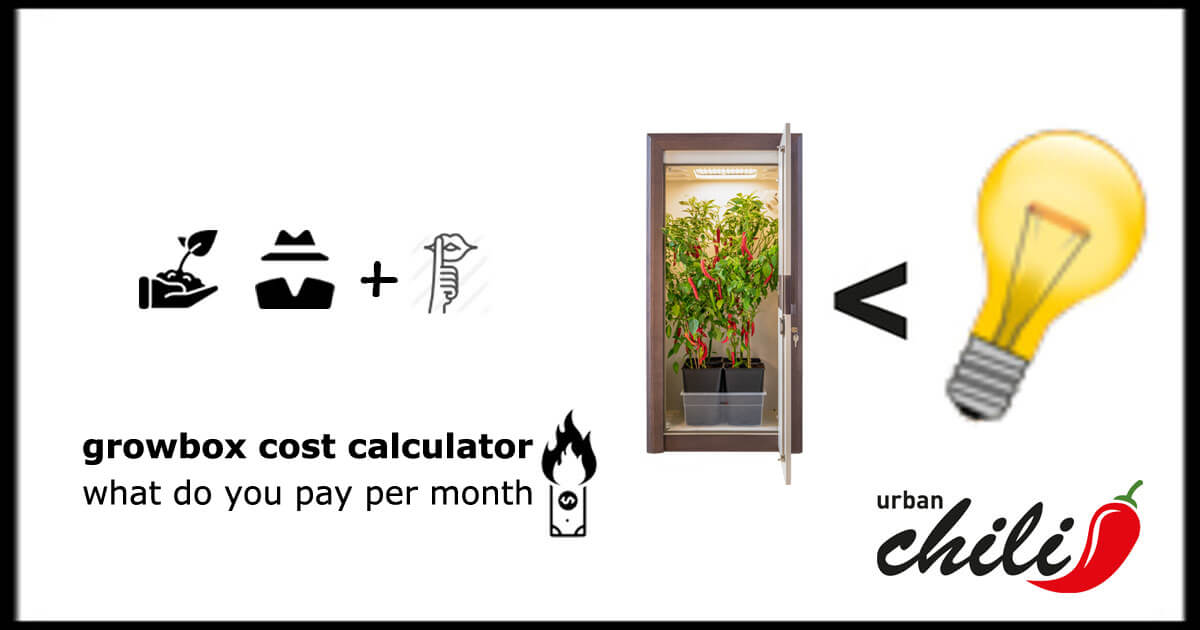 about us + current:
We are still a two-man team that sees urban Chili as a cool hobby and has fun with the project. We love what we do and do our best to make you excited about urban chili.
May 2020, the urban Chili 3.0 can be ordered, up to 95% more PAR light output that
urban chili light is available, and has up to 50% more PAR light output than its predecessor urban Chili 2.0
May 2019, the urban Chili 2.0 Growbox Complete Set is available, 50% more volume, 70% quieter fan technology and only 80 W.
With us you cultivate premium plants.
The urban Chili team wishes you lots of fun with urban farming
Johannes and Stefan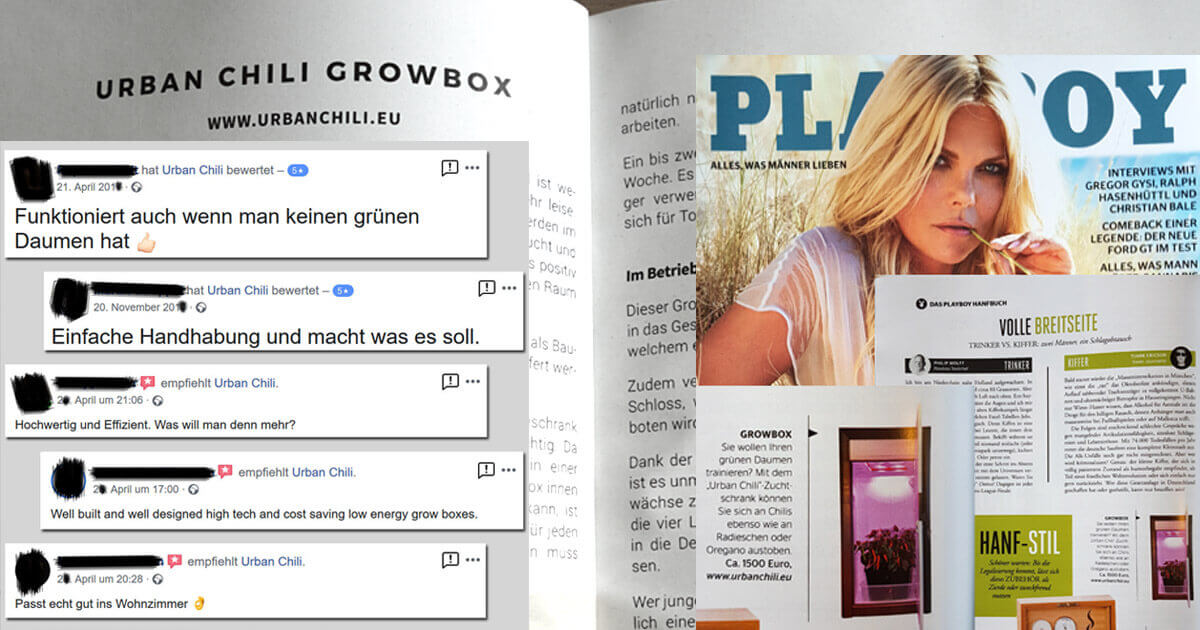 urban Chili 3.0 & light range