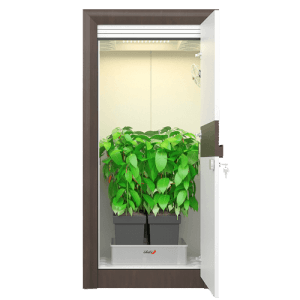 LED Grow box set
the premium grow cabinet by urban Chili 🌶️ the LED Grow box Set
The premium grow box from urban Chili guarantees you good harvests all year round
Choose the color that best suits your decor. Whether you get the urban Chili grow box delivered as a kit or assembled, you can also choose. For mounting only a screwdriver and a pair of scissors is needed.
while stocks last
model change to 🌶️ 2.0


MOUNTING
Simple and solid design
in Plug'n Play

GROWING
The complete kit to grow your
plants, optimized for
beginners
HARVESTING
Harvest all year with a
professional result

Simplicity meets first class quality
The excellent product quality reveals, among other things, the structure of the plant cabinet. The grow box is clearly designed and equipped with useful extras, with which the cultivation of plants is child's play. These include a wireless thermo-hygrometer as well as a digital timer. There are also three distribution boxes with main switch. The outstanding quality of the urban Chili LED complete set is also reflected in the excellent product processing and the body with design elements made of solid wood and the veneered surface. So it's not surprising that this LED BOARD Grow Cabinet even made it into the elite Playboy!
If you have any questions, please visit our FAQ or write us a mail if you want to know more about us, read in our Genesis
be independent
with urban Chili
less power consumption than a 100W bulb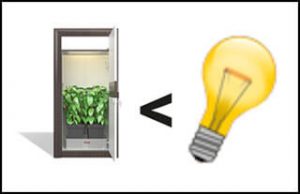 It does not get any better: that's why the urban chili grow box is the best choice
It is possible to order all the parts for a grow box with several suppliers separately and laborious to assemble.
But this has many disadvantages. Cost and effort are higher and something can easily be forgotten or individual parts do not fit together. Frustration sets in, which can be avoided.
With the urban Chili complete set, there is a perfect protection against it. It contains everything the amateur botany needs for his grow. All components fit together and are excellently processed. Crucial sources of error in homegrowing can thus be ruled out.

LED with full spectrum
144 Samsung Chips
100% silent

Carbon filter without smell
Charcoal filter layer in
the air exhaust system

Security lock
Keep your plants away
from prying eyes.

Super silent
Continuous operation
without annoyance

Quality design
The design elements
are solid wood

Economic
Consumes only
80W

System information
Thermometer and
hygrometer

Extraction fan
6 fans with carbon
filters
Pot and Basin
Water capacity for a
maximum of 1 week
get started with your grow cabinet
With the urban Chili grow cabinet Complete Set you have the choice between self-assembly with the help of a child-friendly manual or a ready assembled urban Chili Plant Cabinet.
Skilled craftsmanship is therefore not required when choosing the urban Chili. Whether fully assembled or as a kit: In the end, only the LED lighting in the grow cabinet must be connected to the socket and the desired time set. Finished!
In order to be able to start cultivating immediately, urban Chili really thought of everything with the LED grow box complete set.


ENERGY EFFICIENT
only 80 W


FAST CUSTOMER ISSUE
SERVICE
if you feel yihaa about urban Chili 🌶️ like us