grow box electricity costs calculator
Cheap can also be really expensive.
A LED Growbox is our choise, whats yours?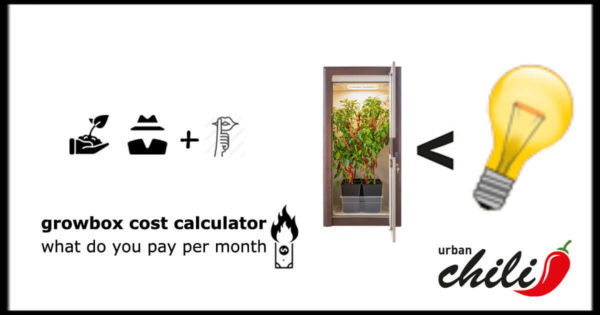 All information is without guarantee of correctness and completeness.
How much does a growbox cost monthly – annually?
Take a look at how efficient your grow equipment really is. Whether you want to compare your grow box or systems you might want to buy does not matter.
The formula assumes 18 hours of light operation and 24 hours of fan operation. The electricity costs are an average work 2018 including network fee. If you have another one
kW / h price, you can also change this.
The wattage is available on every electric device. If only voltage (volts) and current (amperes) are indicated. Multiply these 2 values ​​and you have the watts of power.
urban Chili is probably the most energy efficient growbox system. Unfortunately, we do not know exactly. So far we have not found anything comparable.
TIP: Light has a very high reduction factor at a distance. Unfortunately, you have to keep a certain minimum distance with many lights 30cm + is not uncommon. Incidentally, the urban chili LED is >10-15cm no problem.