urban Chili is a beautiful high quality piece of furniture that fits in almost every living space.
The body of the urban Chili 3.0 is now manufactured in Tyrol, is even more precise and has a bar lock
With WOW experience, standing in front of our grow cabinet and knowing what's in front of you.
We chose design elements made of solid wood and veneered body.
You have to be able to see and feel the quality of the grow box.
It is also important to hear nothing when the grow box is running.
The remaining noise, which is made by the exhaust air and circulating air, absorbs the body.
There are some peculiarities in our construction, in order to receive as much useful volume as possible and not to apply too thickly.
To get a high precision the parts of our grow cabinet are made with modern CNC machines. This becomes clear upon closer inspection of the arrangement of the technique.
External dimension:
urban Chili 3.0:

65 x 45 x 133 cm
26 x 18 x 53 in

urban Chili light:

65 x 45 x 133 cm
26 x 18 x 53 in
Inner dimensions / useful volume:
urban Chili 3.0:

61,5 x 40,5 x 112 cm
24,6 x 16,2 x 44,8 in

urban Chili light:

61,5 x 40,5 x 112 cm
24,6 x 16,2 x 44,8 in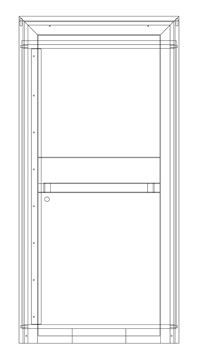 Grow cabinet arrangement, division:
The Grow box has a 2 Area System, which means that our Grow LED BOARD is in a separate area, and even less heat from the light source into the plant space acts. The Grow LED is not suspended, but integrated in the BOARD technology.
Our Technik BOARD also includes 6 pieces of 3 layer activated carbon filters, and the exhaust air with our 6 pieces Top Silent fans.
In the main area is a lot of space, it is at 112 cm / 44,8 in internal height often even smarter to put the plants at the beginning of a box to increase the plants. This volume can also be used well to dry plants.
The door with integrated lock is also light-tight due to the high quality seals.