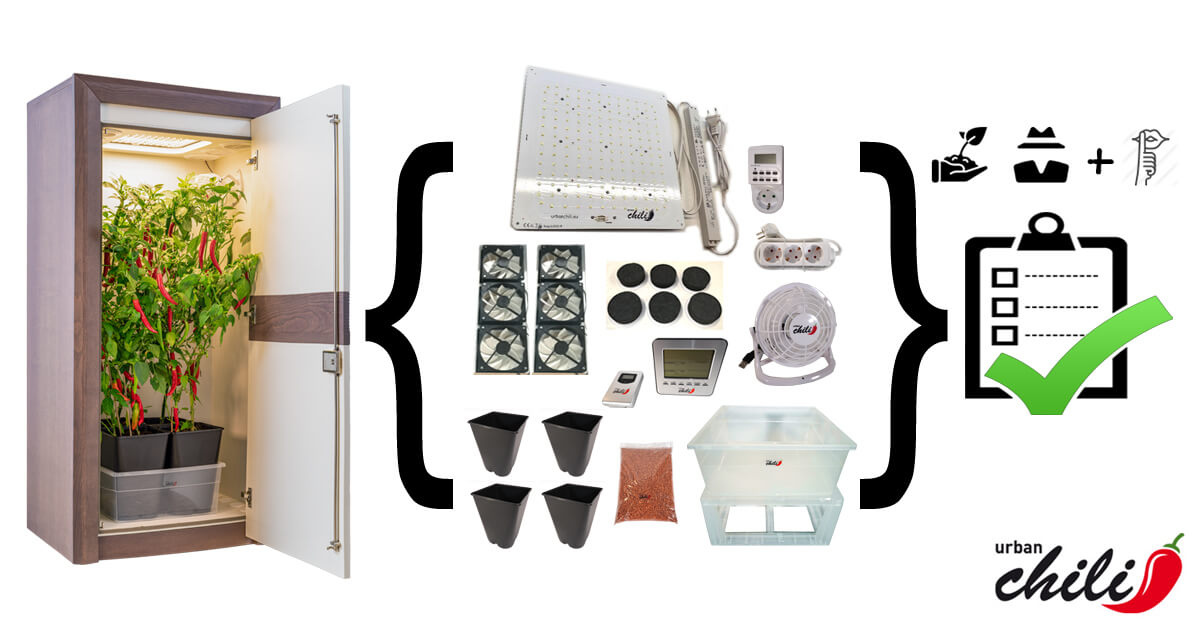 Grow box Complete Set – the premium grow cabinet by urban Chili
Why Buy an LED Growbox Complete?
Of course you can buy the parts of a grow box Set individually and build a grow cabinet yourself. It takes a lot of skill and knowledge on what to look out for it to work at least. Most of the time the result does not look very professional, you need too much power and you are far from silent.
If you want to save the effort and a nice already optimized grow cabinet, you should take a closer look at the urban chili growbox complete set.
grow box set and get started
With the urban Chili grow box Set you have the choice between self-assembly with the help of a child-friendly manual or a ready assembled urban Chili Plant Cabinet.
Skilled craftsmanship is therefore not required when choosing the urban chili. Whether assembled or as a kit: In the end, only the LED lighting in the grow cabinet needs to be connected to the socket and the desired time set. Finished!
In order to be able to start cultivating immediately, urban Chili really thought of everything with the LED Growbox complete set.
You only need more seeds, soil and fertilizer.
What is included in the LED grow box set?
     urban Chili 3.0 Grow Cabinet body (or light)
     urban Chili LED BOARD
     lock
     6 fans (exhaust air)
     6x 3-gauge activated carbon filter
     circulation fan
     all plugs and cables
     3 times table distributor
     digital timer
     Wireless thermo-hygrometer
     tub
     pots
     clay granules
     exact photo assembly instructions (with kit)